Ben Schmack
---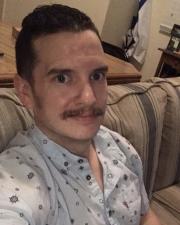 Biography
—
Ben Schmack is a PhD student in the Department of American Studies. His research interests include labor radicalism, political extremism, immigration, and ethnicity in the 20th century United States. His current work focuses more specifically on physical and rhetorical clashes between Communist activists and the KKK. Before coming to KU in 2015, he earned his B.S. and M.A in History at Northern Illinois University. When he is not researching, Ben enjoys bad movies and watching his beloved Chicago Cubs.
Selected Publications
—
Benjamin Schmack, "Agents Provocateurs: State Infiltration in BlacKkKlansman and the Greensboro Massacre," upcoming in Left History. 
Benjamin Schmack, "Denouncing the Hooded Order: Radicalism, Identity, and Dissent in the UMWA," American Studies 57, no 4 (2019). 
Awards & Honors
—
Bernard Bellush Prize in Labor History, New York Labor History Association (2021) 
University of Kansas Summer Research Scholarship (2018) - $5,000 Award
Katzman-Yetman Graduate Paper Prize, Mid-America American Studies Association Conference (2016)